Dentures – McComb, OH
A Comfortable, Custom-Made Solution to Tooth Loss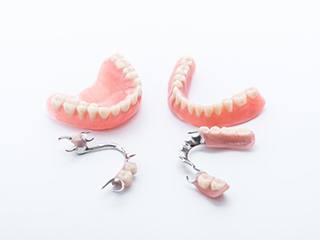 Once you've lost teeth, your remaining teeth can shift, and you could become susceptible to jawbone loss. Your facial muscles may sag, making you look much older, and your confidence often suffers as well. At McComb Family Dental, we believe that just because you're missing teeth doesn't mean you have to say goodbye to good oral health or a fabulous smile. We can rebuild your smile with dentures in McComb. This comfortable, custom-made solution to tooth loss can improve functionality and boost your self-esteem. To learn more, we invite you to give us a call!
Types of Dentures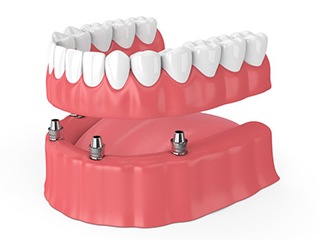 Whether you've lost just a few pearly whites or a whole mouthful, our dentists can offer a solution. Depending on your specific oral health needs, they may recommend one of the following types of dentures:
Partial Dentures
A partial consists of a gum-colored acrylic base, a metal framework that attaches to your remaining teeth, and prosthetic teeth that are strategically placed to fill the gaps in your grin. These teeth are personalized to resemble the shape, size, and color of your natural teeth.
Full Dentures
With a full denture, an entire row of artificial teeth sits atop a pink base that rests snugly on your gums. Natural suction should be enough to keep it firmly in place, but you could always buy some denture adhesive for added security.
Implant-Retained Dentures
For an even more secure solution, we may suggest an implant-retained denture. Four to six dental implants can be placed at precise angles and locations throughout your jawbone. Once these titanium posts have integrated with the bone, then a full or partial denture can be placed on top. Implant-retained dentures are generally more stable and longer-lasting than their traditional counterparts.
Are Dentures Right for Me?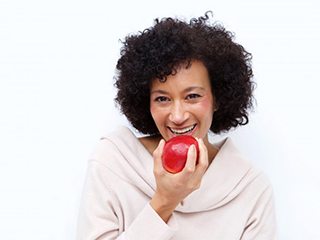 Most patients who have lost some or all of their teeth would make great candidates for dentures. You may have to undergo some preparatory work beforehand, such as tooth extractions or gum disease therapy, but the majority of patients with missing teeth could benefit from traditional dentures.
Good candidates for implant-retained dentures, however, should also have a jawbone that is strong enough to support dental implants. If that is not the case, you may need to receive a bone grafting procedure before implants can be placed.
Benefits of Dentures
Here are just a few of the many reasons to rebuild your smile with dentures:
Regain your ability to bite, chew, talk, and smile
Eat all of your favorite foods again
Boost your confidence and overall appearance
Improve your oral and general health
Enjoy a long-lasting solution to partial or full tooth loss
Caring for Your Dentures
Even though dentures are cavity-proof, you'll still need to sanitize them every day. Otherwise, bacteria and plaque could accumulate on them, increasing your risk of oral health problems like gum disease, sores, and cavities in remaining teeth. Here are some helpful tips for taking care of your dentures:
After every meal or snack, take out your denture and rinse it off to prevent food debris from lingering and attracting harmful bacteria.
If you have a partial, make sure to still brush and floss your natural teeth every day.
Use a soft-bristled toothbrush and a denture cleanser to brush your dentures daily.
When you're not wearing your dentures, such as overnight, soak them in a glass of room-temperature (never hot) water or a denture cleaning solution to keep them from drying out and losing their shape.