Meet Our Dental Team
Front Desk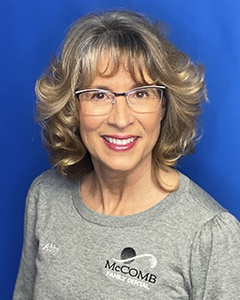 Abby, Treatment Coordinator
After high school, Abby earned an associate's degree in accounting. She first joined our team in the 1990s. After taking time off to raise her son Jacob and daughter Rachel, she rejoined the team in 2009. Abby helps our patients with their investment in obtaining and maintaining excellent oral health. Outside of the office, Abby enjoys spending time with her children, grandchildren, family, sewing/quilting, and traveling. She also enjoys devoting time to others by volunteering at church.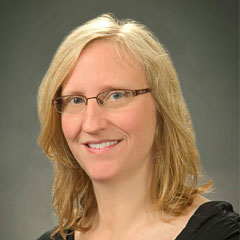 Cathy, Office Manager
Cathy joined us in 2010. Utilizing her degree in Business Administration from The University of Findlay, she manages the day-to-day operations of the practice and enjoys enhancing the technology in the office. She and her husband, Roy, live near McComb with their son, Bo. She enjoys spending time with her family and friends, going to the lake, traveling, and supporting Bo's school and sports activities.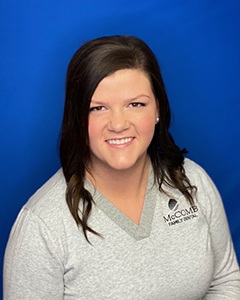 Deanna, Business Team
Deanna has been in the dental field for a handful of years so far, also working as an assistant to an oral surgeon before her current position with us. She loves spending time alongside such wonderful patients and coworkers! Originally from Gilboa, she and her husband Brad have three children named Karter, Ryleigh, and Cora, as well as a dog named Otis. Her biggest hobbies include reading and attending the kids' various activities.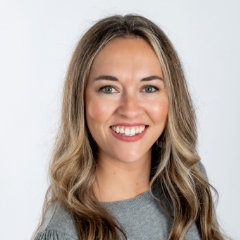 Kallie, Business Team
Originally from Alvada, Kallie attended Bowling Green State University for her education. Today, she's proud to help care for our amazing patients with the support of the other talented staff members. She and her husband Chris have a young daughter named Sophia. When she isn't busy at the office, you can usually find her spending quality time with her loved ones, boating, and traveling to visiting friends. An interesting fact about her: she has a twin brother!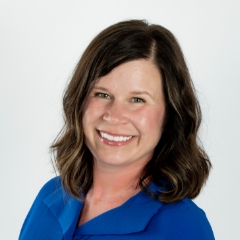 Lisa, Business Team
Originally from Findlay, Lisa studied at Colorado State University. She first joined our team in July of 2019 after visiting as a patient for over a decade, and she has around five years of previous experience in dental offices. Today, she feels very proud to be part of such a positive, professional team where patients truly are treated like family! At home, she and her husband Chad have three children named Matthew, Brian, and Megan. In her spare time, she enjoys being with loved ones and watching her kids play sports.
Assistants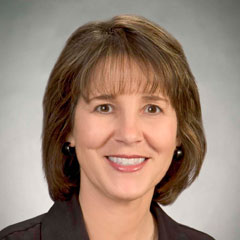 Cindy, Dental Assistant
For more than 40 years, Cindy has served our patients with experience and compassion. Cindy enjoys our family-oriented practice and prides herself on providing the best dental care possible. She and her husband, Matt, have been married since 1982. Cindy is active in her church. She's also an Ohio State Buckeye fan, and she likes to golf, fish, hunt, and travel.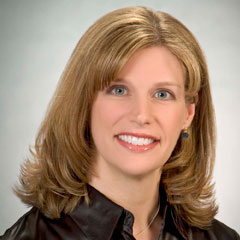 Laura, Expanded Function Dental Assistant
Laura is a certified dental assistant who earned her degree at The Ohio State University, and she's taken many hands-on courses with the American Academy of Cosmetic Dentistry. She is committed to giving patients thorough dental care and beautiful smiles. She and her husband, Ed, have two children, Bradley and Cassidy. Outside of the office, she stays busy gardening & canning. She enjoys spending time with her family and being outdoors.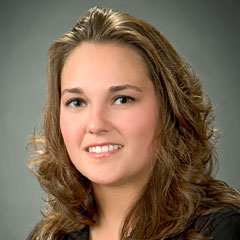 Lindsay, Dental Assistant
Joining our team in 2009, Lindsay brings enthusiasm and zest to her work with patients. She loves developing lasting relationships fueled by a desire to obtain optimal oral health. Outside the office, Lindsay spends time with her husband Shane and their Great Danes. She enjoys softball, volleyball, bowling, and fitness.
Hygienists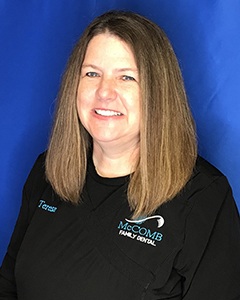 Teresa, Registered Dental Hygienist
Teresa received her hygiene training from Lima Technical College where she received the Golden Scaler Award for her outstanding qualities in clinical skills and patient care. With tenure since 1990 in this office, Teresa helps create gorgeous smiles for our patients. She appreciates the team atmosphere of the staff. Her husband, Rob, and two sons, Nathan and Brandon, keep Teresa busy away from the office. Teresa also likes gardening and watching her boys play sports.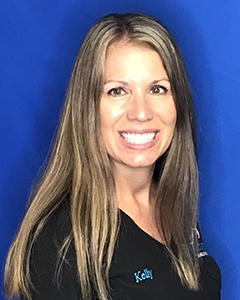 Kelly, Registered Dental Hygienist
Kelly has been with the practice since 1996. She likes the wonderful group of people that work here, and Kelly says her patients make her smile every day. Kelly is married and has two grown daughters and a son-in-law. She enjoys running and has completed several 5Ks and a half marathon. Away from the office you will find Kelly at their campground at the lake or watching sports and enjoying time with her family and friends.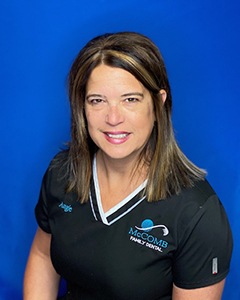 Angie, Registered Dental Hygienist
Angie first joined McComb Family Dental in 1995, and today, she has over two full decades of experience! She completed her education at Lima Technical College, which is now known as Rhodes State College. As one of our hygienists, she goes above and beyond to build great rapport with the patients – open communication and listening are truly key. She and her husband Drew have three children, and her free time is spent encouraging the kids in their activities, supporting her husband as he runs the family farm, and making inspiring hand-stamped jewelry.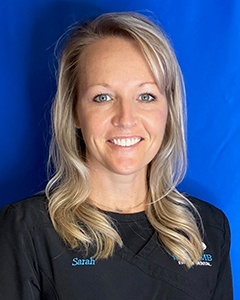 Sarah, Registered Dental Hygienist/Expanded Function Dental Assistant
With training as a registered dental hygienist and an expanded function dental assistant, Sarah provides her patients with thorough care and a wealth of experience. She's been a valued member of our team since 2002 and holds licensing for dental anesthesia. Sarah is married to Kevin, and they have 3 children, Mason, Brevin, and Kya. She enjoys running and attending her kids' sporting events.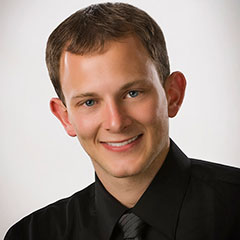 Matthew, Registered Dental Hygienist/Expanded Function Dental Assistant
Matthew joined our office in 2010, after graduating from Owens College. Though primarily focused on maintaining and restoring smiles, he's also committed to educating our patients about the brushing habits that will help them achieve their optimal oral health. Matthew is also certified to administer dental anesthesia. It's dedication like this that lets us build lasting relationship between team members and patients. Away from the office, Matthew enjoys being on the water, vacationing, and helping on his family's farm.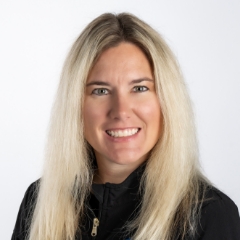 Laine, Registered Dental Hygienist
A graduate of The Ohio State University, Laine has worked as a dental hygienist since 2007, and began practicing with our office in 2018. She also holds her local anesthesia license. Laine enjoys instructing patients on good oral hygiene habits and provides state-of-the-art preventative care. Laine and her husband, Drew, live in Ottawa with their two daughters. She enjoys camping, spending time with family & friends, and volunteering at her daughters' school.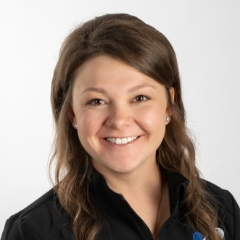 Grace, Registered Dental Hygienist/Expanded Function Dental Assistant
Grace achieved her Bachelor's in Allied Health at Youngstown State University and then completed her advanced certifications at Owens Community College. She is also trained in local anesthesia. Today, her career in the dental field covers over five years so far. She really enjoys being able to help each patient achieve and maintain the good oral health they deserve! In her spare time, she enjoys cooking, traveling, painting, fishing, and hanging out with friends and family.
Jaclyn, Registered Dental Hygienist/Expanded Function Dental Assistant
Jaclyn joined our team in 2017. She received her dental hygiene and Expanded Function Dental degrees, as well as her anesthesia certification, from Owens Community College. Jaclyn comes to us from Leipsic, where she grew up and now lives with her husband Silas and their 2 dogs.