Laser Dentistry – McComb, OH
Enjoy Pinpoint Precision for Unmatched Results
At McComb Family Dental, we believe our patients deserve to benefit from the best, which is why we embrace the latest techniques and technologies to provide superior care. Our office offers laser dentistry for a variety of soft tissue treatments, including gum disease. Although there are many lasers on the market, our office uses Biolase. The EPIC laser treatments provide patients with improved accuracy, less bleeding, faster healing, and better clinical results than conventional methods. You'll enjoy pinpoint precision and unmatched benefits when choosing laser dentistry.
What is a Soft Tissue Laser?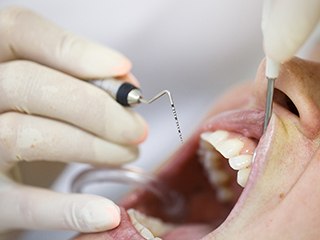 Lasers have been used for years to provide more treatment options for patients; however, it isn't limited to vision correction or skin rejuvenation. Instead, lasers can also aid your dental care. The highly concentrated beam of light energy targets tissue with unmatched precision to leave healthy areas untouched. It also cauterizes and sterilizes while it cuts to promote a faster recovery with fewer risks of complications.
What are the Benefits of a Soft Tissue Laser?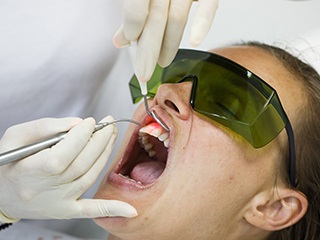 When compared to traditional treatments, laser dentistry offers several advantages, including:
How Can a Soft Tissue Laser Help Me?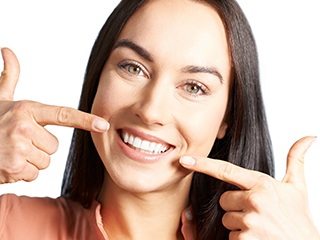 Laser dentistry can be used for several dental procedures. Among the most common include:
Periodontal Therapy
Bleeding gums and gum recession are common signs of gingivitis and periodontal disease caused by the presence of bacteria and inflammation inside the gums. The EPIC laser gum treatment is a relatively painless procedure that removes inflamed areas and infected tissue from inside the gums. This improves the healing process, allowing the tissue to reattach to the teeth to prevent the infection from reoccurring with the right care, like maintaining your oral hygiene.
Gum Recontouring
If you have a gummy smile or your gum line is uneven, laser dentistry can help. The laser can reshape your gum line and remove excess tissue to make your teeth look larger and shapelier. Gum recontouring can be used for restorative and cosmetic purposes to improve both the health and appearance of your smile.
Oral Growths
The EPIC laser system may be used to remove small "tags" called papillomas and growths called fibromas that can occur on the cheek or tongue from a traumatic bite. We can also treat cold sores and canker sores to decrease the amount of healing time and reducing any discomfort.
Our soft tissue laser can be used for several purposes, like frenectomies, biopsies, and uncovering an impacted tooth. We'll perform a thorough consultation to ensure you're a candidate for laser dentistry.
Schedule Your Consultation Today
If you have gum disease, or you need a soft tissue procedure, benefit from state-of-the-art technology. Contact our office today to schedule your consultation for laser dentistry. We look forward to providing you with the advanced solutions you deserve.