February 28, 2023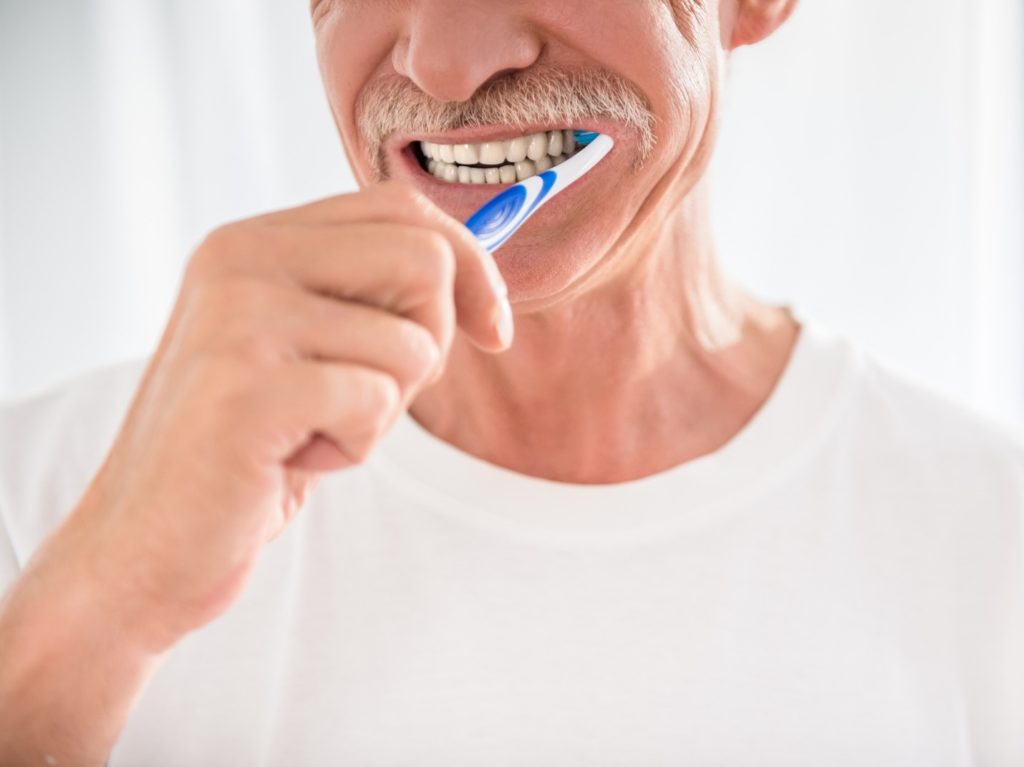 Whether you're missing several teeth or all of them, modern dentures can effectively rebuild your confidence, bite, and speech. Unfortunately, however, there is a common misconception that oral health is no longer a priority once you've lost your teeth. That's simply not the case! To prevent further tooth loss, keep your gums healthy, and ensure your new smile stays in pristine condition, it's more important than ever to prioritize dental care. With this in mind, read on to learn a few bad habits you should avoid with dentures.
1. Not Brushing Consistently
As previously mentioned, many patients think that they no longer need to brush once they have dentures. Oral hygiene continues to serve an important purpose. Brushing removes bacteria from your dentures, the surface of your remaining teeth, your gums, and your tongue. So, don't ditch brushing simply because you have dentures!
2. Skipping Your Biannual Dental Checkup and Oral Cancer Screening
Your routine visits to your dentist's office serve several important purposes. In addition to checking the condition of your dentures and answering any questions you have, these appointments allow your dental team to screen for gum disease, oral cancer, and other serious conditions. Plus, the special tools they have at their office are the only ones that can effectively remove stubborn plaque and tartar, reducing your chances of developing oral health problems moving forward.
3. Using Harsh Chemicals to Clean Your Dentures
If your dentures are starting to discolor or smell, you might be tempted to give them a deeper clean. However, harsh cleaners, like bleach, contain toxins that should not be ingested. That's why it's important to only use the products that your dentist recommends. Fortunately, there are several that are made specifically for cleaning dentures that are affordable and available at your local store!
4. Wearing Your Dentures When They No Longer Fit
Wearing ill-fitting dentures can result in a multitude of problems, from embarrassing slipping while you talk to difficulty chewing and uncomfortable mouth sores. So, if your dentures feel loose, the solution is not to ignore the problem or apply more denture adhesive. Instead, schedule an appointment with your dentist so they can adjust them or order a replacement.
5. Smoking
Smoking is an unhealthy dental habit that can negatively affect your oral and overall health. In fact, it can delay the healing of any mouth sores you have, result in chronic bad breath, increase your chances of getting cancer, discolor your teeth, and much more. Therefore, there is no time like the present to put a plan in place to quit.
About the Practice
A top-rated dental office in McComb, our team at McComb Family Dental is proud to help patients of all ages get the full, healthy, and beautiful smiles they deserve. If you're struggling with tooth loss, you'll be happy to know that our talented team of dentists offers several tooth-replacement solutions, including modern and lifelike dentures. If you have a question about life with dentures or would like to schedule an appointment with our team, visit our website or call (419) 293-2335.
Comments Off on Have Dentures? Here Are 5 Habits You Should Avoid
No Comments
No comments yet.
RSS feed for comments on this post.
Sorry, the comment form is closed at this time.