April 14, 2023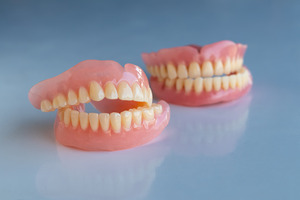 One of the first things that many patients wonder upon first getting dentures is whether it's okay to wear them 24 hours a day. Surprisingly, the answer is no; while it might not seem like it would cause any problems, you never want to fall into the habit of keeping your dentures in your mouth too long. So how many hours a day can you wear your dentures? And why is it so important for you to remove them? Here's what you need to know.
How Many Hours a Day Do Dentists Recommend Wearing Dentures?
If you talk to your dentist, they'll likely suggest taking your dentures out for around eight hours a day to give the tissues under them a rest. Therefore, the total number of hours you can wear dentures on a daily basis is 16.
Note that this won't necessarily be the case when you first receive your dentures. It's better to keep your dental prosthetic in your mouth as much as you can while you're still getting used to it. As such, you should wear your dentures most of the time for the first few days. This includes the time you spend sleeping in bed. Be sure to start removing your dentures regularly once you've finished adjusting to them.
Why Do You Need to Take Your Dentures Out?
One of the biggest reasons why you need to remove your dentures periodically is that you don't want your gums to stay constantly covered. Regular exposure to air is necessary for making sure the soft tissues in your mouth stay healthy. Keeping them covered can lead to harmful bacterial growth and inflammation.
There are other drawbacks to constantly wearing dentures:
When sleeping with dentures, you might inhale some of the bacteria living on them. This can put you at risk for a number of respiratory illnesses. In fact, people who wear dentures for 24 hours a day are twice as likely to suffer from pneumonia.
After losing your teeth, the bone in your jaw will start to be resorbed. The pressure from dentures can speed up this process. If too much bone is resorbed, your dentures could lose some of their support and might become more prone to falling out.
If you never take your dentures out, you probably aren't cleaning them properly. This means you likely won't get rid of the plaque and tartar that can contribute to all kinds of oral health problems.
Modern dentures are made out of high-quality materials that are comfortable to wear, but there's a reason they're still designed to be removable. Make sure that you're taking your dentures out for the right amount of time each day so that you can maintain a healthy mouth!
About Our Practice
At McComb Family Dental, we show our patients what it's like to have a dental team that truly cares about them. We're happy to see whole families, and we work to maintain an environment where our patients can relax during their treatments. If you're missing multiple teeth, we can replace them with dentures that have been customized just for you. If you would like to schedule an appointment with us, visit our website or call (419) 293-2335.
Comments Off on How Many Hours a Day Is It Okay to Wear Dentures?
No Comments
No comments yet.
RSS feed for comments on this post.
Sorry, the comment form is closed at this time.