September 4, 2022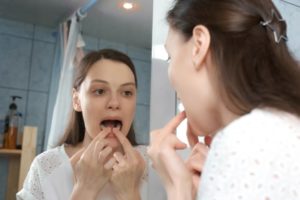 Have you ever caught yourself grinding your teeth or clenching your jaw? Maybe it's going on when you aren't aware of it, as well. You may need to speak with your dentist about receiving treatment for bruxism. Side effects of bruxism include headaches, tooth or jaw pain, and overly worn teeth. Night guards create a barrier between your top and bottom teeth and are commonly used to lessen the effects of this condition. If your dentist gives you a night guard to protect your teeth from bruxism, follow these tips to ensure it remains in good condition and you get the most value from it.
Be Sure to Wear Your Night Guard
It's important to wear your night guard every time you fall asleep so that your teeth don't grind together and cause a host of oral health issues. You may want to consider storing it near the areas where you often fall asleep. This will allow you to quickly put it on before you fall asleep.
Care for It Properly
Along with wearing your guard as you go to sleep, it's also important to take good care of it. Some tips to help you properly clean it include:
Rinse – Use cool, fresh water to wash your night guard when you take it out in the morning. Don't forget to clean its storage case with regular dishwashing detergent every few days as well.
Brush – Use a soft-bristled toothbrush and either nonabrasive toothpaste or mild, alcohol-free soap to gently clean your night guard.
Soak – You can also add a capful of mouthwash in a clean glass. Dilute it with water until there's enough liquid to cover your night guard and then soak it in this mixture for 30 minutes.
Dry it out – Once you're done rinsing and brushing, let your night guard dry on a clean surface before safely storing it in a hard, protective case that allows for air circulation.
Avoid hot water – Using hot water to clean your guard can cause it to become misshapen and should be avoided.
Ask Your Dentist to Examine the Night Guard
Every six months, schedule a dental checkup and cleaning and bring your night guard with you so your dentist can examine it. If there are any problems, they can have a new one made for you. They may also be able to have it professionally cleaned so you can leave your appointment with it fresh and bacteria-free.
Following these tips ensures you'll maximize the benefits of your guard. By wearing it as often as your dentist recommends and practicing proper care, you'll be able to prevent discomfort and keep your teeth healthy and strong!
Comments Off on How to Take Care of Your Night Guard
No Comments
No comments yet.
RSS feed for comments on this post.
Sorry, the comment form is closed at this time.