April 19, 2021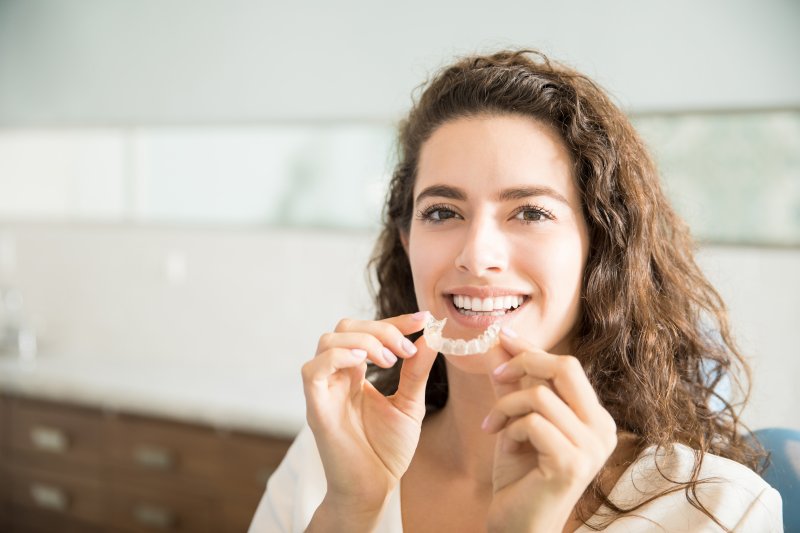 Invisalign is one of the most versatile methods of orthodontics available. After months of wearing these clear trays, you're probably feeling relieved to be finished with treatment; however, just because you're no longer wearing Invisalign doesn't mean you're actually "done." To keep your teeth firmly in their new location, you must wear a retainer. How long will you need to wear it? A dentist explains what kind of timeline you can expect as well as what you can do to better care for your oral appliance and avoid potential damage.
The Average Timeframe for Retainers
Once you are finished with Invisalign in McComb, your doctor will provide you with a retainer that is designed to hold your teeth in place. It takes time for their new placement to become permanent. Without a retainer, your teeth can shift back into their original position, effectively undoing all your hard work and progress.
"Concerned about having a retainer with uncomfortable metal wires? There is no need to be concerned because Invisalign makes its own brand of comfortable clear retainers that make it possible to enjoy the same discreet form of treatment as your regular aligners." After trading in your clear Invisalign trays for your new retainer, you can expect the typical timeframe for wearing a retainer to look something like the following:
1st 3-6 months after completion of treatment: 12-22 hours each day, every day
After completion of treatment: only at night while sleeping
Ways to Care for Your Retainer
To avoid additional costs to have a new retainer made, it's important that you take proper care of your Invisalign retainer. To do this, your doctor will provide helpful tips, some of which may include:
Never use hot water to rinse your retainer, as this can warp the plastic and damage it. Instead, use lukewarm water.
Use a soft-bristled toothbrush to gently remove bacteria and other remnants from your retainer, cleaning both the interior and exterior of the appliance.
Regularly clean your retainer and help remove calcium and tartar buildup to ensure a thorough clean. Be sure to rinse with lukewarm water before reinserting your retainer.
Make sure to remove your retainer before eating or drinking.
Clean your teeth after eating to prevent food particles and bacteria from transferring onto your retainer.
Store your retainer in a protective case to avoid accidentally throwing it away or damaging it.
Be mindful of the foods and beverages you consume that are darkly colored, as their colors could transfer to your retainer and cause discoloration.
While you may have been hoping to learn that wearing a retainer would only require a few months at most, you'll soon learn the continued use of this oral device will be well worth it as you begin to embrace life with a healthier, more vibrant smile.
About the Practice
At McComb Family Dental, we use Invisalign aligners to help our patients achieve straighter smiles. These clear, plastic trays allow for a more discreet, faster form of orthodontics, which makes most individuals excited about the idea of starting treatment. If you are looking to fix overcrowding or a misaligned bite, we will be with you to walk you through the process and offer tips and recommendations to keep your trays and eventually, your retainer clean and free of damage. Contact us at (419) 293-2335 to find out what we can do for you.
Comments Off on Life After Invisalign: How Long You Can Expect to Wear Your Retainer
No Comments
No comments yet.
RSS feed for comments on this post.
Sorry, the comment form is closed at this time.