April 27, 2022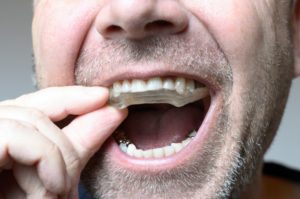 Just how popular are youth sports in America these days? It is estimated that 20-25 million youths participate in competitive sports. Unfortunately, along with increased participation comes an elevated incidence of injury. It is believed that more than 35 percent of all unintentional injuries to children and adolescents occur during sports competitions or practice. Of those injuries, 10-20 percent are maxillofacial (relating to the jaws and face), according to the American Dental Association (ADA). Here are some sports where a sports mouthguard, aka sportsguard, is very important, and some injuries that can occur without one, according to your dentist in McComb.
Sports That Should Require a Sportsguard
Here is a list of sports the ADA recommends wearing a custom sportsguard to participate in. They suggest wearing the sportsguard in all practices as well as competitions. Also note that, in addition to this list, other experts recommend including infielders for baseball and softball, as well.
Acrobatics
Basketball
Boxing
Field Hockey
Football
Gymnastics
Handball
Ice Hockey
Lacrosse
Martial Arts
Racquetball
Roller Hockey
Rugby
Shot Putting
Skateboarding
Skiing
Skydiving
Soccer
Squash
Surfing
Volleyball
Water Polo
Weightlifting
Wrestling
What Types of Dental Injuries Can Occur Without a Sportsguard?
The National Youth Sports Foundation for Safety contends that an athlete is 60 times more likely to sustain damage to the teeth when not wearing a protective mouthguard. Oftentimes, these injuries will result in permanent damage to oral structures and require medical intervention.
The three categories of dental injuries are:
Fracture: Can be classified as root fracture, broken tooth, or chipped tooth
Avulsion: Entire tooth, including the root, is knocked out
Luxation: Tooth remains in the socket, but is now in the wrong position
Dental injuries are easily prevented with a sportsguard. There are three types of sportsguards: a ready-made or stock mouthguard, a mouth-formed "boil-and-bite" mouthguard, or a custom-made mouthguard crafted by a dentist.
According to the ADA, the most effective sportsguards should be comfortable and resilient. A mouthguard should also be easily cleaned and not restrict speech or breathing.
The best sportsguard variety to protect your child is one crafted by a dentist. They fit better, utilize higher-quality materials, and are more comfortable, so your athlete is more likely to consistently wear theirs when you are not around.
It is important to remember that damaged teeth do not grow back. Before your child hits the field, mat, or court again, in order to protect that perfect smile while having fun in competition or simply practicing to improve, ensure that they wear a sportsguard.
Comments Off on Sportsguards are Crucial for Dental Injury Prevention
No Comments
No comments yet.
RSS feed for comments on this post.
Sorry, the comment form is closed at this time.