June 18, 2021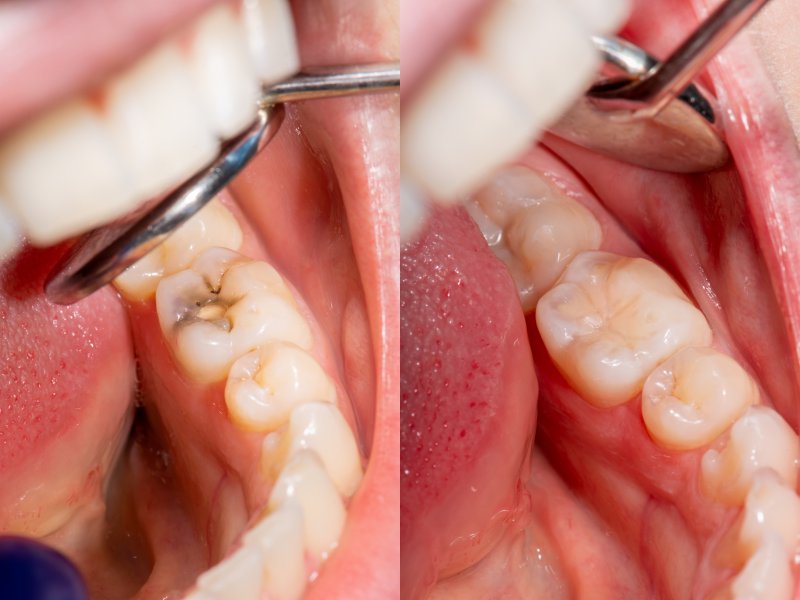 When your tooth is damaged or decayed and needs to be fixed, what's the first possible solution you think of? Perhaps you think of a dental crown to cover the entire tooth, or maybe you think of a filling that's used to directly replace the enamel that was lost. Both types of restoration are useful for reversing dental damage, but other than that they are quite distinct from one another. Read on to learn more about the difference between dental crowns and fillings.
What is a Dental Crown?
A crown is sometimes referred to as a cap for the tooth. They can be made of metal, but nowadays it's more common to make them out of porcelain, which is durable and blends in with the natural teeth very well. They're used in situations where the tooth is still salvageable but is too badly damaged for a filling.
Crowns actively hold cracked and weakened teeth together in order to prevent further damage. Also, since they completely cover the tooth, they can significantly reduce the risk of dental decay. They can last for about 5 to 15 years with standard brushing and flossing. It takes about two visits to place a dental crown; you'll wear a temporary restoration between these visits to keep the teeth in question safe.
What is a Dental Filling?
A filling is used for more minor types of dental damage, most commonly small cavities. After any infected areas of the tooth are removed, the filling material is placed in the empty space. Like with dental crowns, most dentists prefer to use tooth-colored materials for their aesthetic advantages.
Placing a filling will prevent tooth decay from spreading any further and will keep the tooth safe from future infections. The length of time that a filling lasts depends on the kind of care that you give it. Unlike crowns, fillings can usually be placed in a single visit.
Which One Should You Get?
So which type of restoration is right for you? The answer isn't the same for everyone; it depends on various factors, such as:
Size of Cavity: Fillings are sufficient for smaller cavities. Larger ones will likely require crowns.
Tooth Condition: A crown might be needed if a tooth has been filled too many times and has weakened as a result.
Presence of Cracks: If a crack has formed in the tooth, a crown is most likely needed. Fillings are reserved for cases where there aren't any cracks.
Rest assured that your unique circumstances will be carefully considered by our team before either type of restoration is placed in your mouth. No matter if you need a filling or a crown, what's most important is that you have the restoration placed as soon as possible so that you can eat, speak, and smile normally again.
About McComb Family Dental
At McComb Family Dental, our experts help whole families smile again with a wide variety of dental services. Your unique needs are always taken into account, and we'll put a lot of thought into what kind of treatment best suits your situation. If you believe that you might need a filling or a crown, set up an appointment with us via our website or by calling (419) 293-2335.
Comments Off on Dental Crown VS Dental Filling: What's the Difference?
No Comments
No comments yet.
RSS feed for comments on this post.
Sorry, the comment form is closed at this time.