Giving Back to Our Community
Give Kids A Smile Day!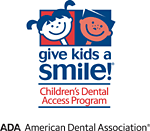 THANK YOU to the more than 50 volunteers that made the Sixth Annual 'GIVE KID'S A SMILE DAY" a huge success!
On February 5, 2010, Dr. Nancy Dysinger and Dr. Kimberli Crates Best, along with several other area dentists, provided more than $35,000 worth of FREE dental care to 108 children that do not have dental insurance.  They were assisted by a team of local hygienists as well as dental assistants who came in to volunteer for this special day!
It is amazing to the think of all the families that receive help through this extraordinary program.  We look forward to participating again next year.